Houston's Best Chiropractor | Innate Chiropractic
Houston-area residents are fortunate to have access to the best chiropractor in Houston. Dr. Jackie St.Cyr has dedicated her life to improving the health and wellness of the people in Houston through her hands-on, gentle-touch chiropractic skills.
Jackie's Chiropractic Journey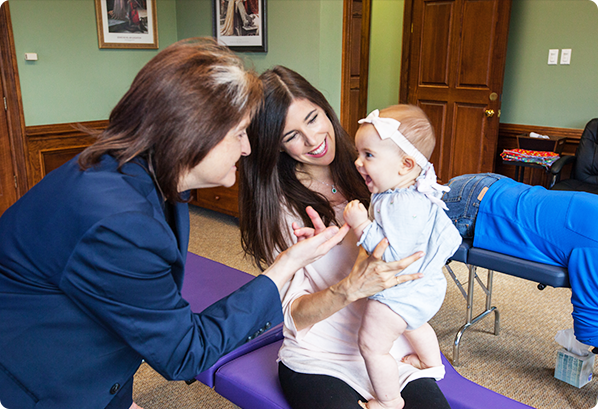 Dr. Jackie has been working in healthcare since 1980 when she first served as a chiropractic assistant. Two years later she experienced her first seminar with Parker Chiropractic, which inspired her to begin studying to be a chiropractor.
Chiropractic Education & Philosophy
Dr. Jackie's experience and education have impacted her beliefs about chiropractic care and wellness.
Chiropractic Education
Her education experience began in January 1992 at the Parker College of Chiropractic in Dallas, Texas. After graduating, she received her chiropractic license in Texas in addition to a Bachelor of Science in Anatomy in January 1995.
Practice Philosophy
The motto "Full spine, whole person" defines Dr. Jackie's belief in total wellness. Her beliefs in chiropractic care evolved after Dr. Jackie learned gentle techniques from the NetworkSpinal Chiropractic Care and Somato Respiratory Integration.
Dr. Jackie has achieved the highest level of certification in NetworkSpinal Analysis and SRI Wellness from Dr. Donald Epstein.
Certified Network Spinal Chiropractor, Houston, Texas
In 1995, Innate Chiropractic Healing Arts Center, Inc. began offering several services for patients looking to improve their health and wellness. As the practice grew, Dr. Jackie increased the offerings to include music, life coaching, and karate. She chose the services to help her patients connect to their inner vibrations and rhythms to improve their wellness.
Chiropractic 
Innate Chiropractic Healing Arts Center provides NetworkSpinal Chiropractic Care with gentle-touch services. The center also offers Somato Respiratory Integration (SRI), massage therapy, and "The Relaxation Station."
Life Coaching
As a dedicated student of health and wellness, Dr. Jackie has trained to be a life coach. She studied with the Tony Robbins Companies in Life Mastery & Leadership Skills where she's become a Bonfire Coaching Certified Life Coach.
Drumming/Music
Dr. Jackie has a passion for drumming and purchased her first djembe drum in 2003. She's been studying with a master drummer, and now hosts drum circles and practices through her Healing Drum Kit Workshops.
Personal Development
As a certified Bonfire Coach, Dr. Jackie helps her clients learn to live with passion. She began studying Anthony Robbins' work and now helps her clients learn to achieve their health goals.
Tang Soo Do Karate
Exercise is an important part of wellness journeys, and Dr. Jackie began studying Tang Soo Do Karate under Master Wayne Boozer in 2009. She has since earned her black belt, and Master Boozer uses the Innate Chiropractic facility as the home of Texas Coast Karate.
Purpose
Dr. Jackie's purpose is to empower and train others to find their inner vibrations and rhythm as they begin their journey toward healing and wellness. She enjoys helping people grow and change, and she does the same as she travels, develops her photography skills, and watches hawks.
Other Houston Chiropractors
Houston is home to other top chiropractors, including these two highly-rated doctors.
Dr. Gregory Johnson
The people in Houston rated Dr. Gregory Johnson as one of the Three Best Rated chiropractors in the area. He earned this honor by providing exceptional chiropractic services that his patients trust and appreciate. The Three Best Ratings use local ratings from patient reviews and community involvement.
Dr. Johnson has delivered outstanding chiropractic services for more than 30 years. His services include corrective care called Ring Dinger from Johnson BioPhysics and the Palmer Package Adjusting to detect and correct vertebral subluxation.
Dr. Billy Cheong
Another top chiropractor in Houston is Dr. Billy Cheong who works hard to relieve aches and pains to improve patient mobility. Dr. Cheong provides individualized care that includes nerve conduction velocity to determine what is best for each patient. Dr. Cheong specializes in sports rehabilitation care and also helps patients with weight loss.
Looking for the Best Chiropractor in Houston?
While Houston is filled with outstanding chiropractors, no one tops Dr. Jackie.
Here's Why Dr. Jackie Is the BEST!
Dr. Jackie is dedicated to her patients and strives to help them all achieve their ultimate state of health and wellness – even before they are born. She honors the potential of every human being to live a healthy life, whether they are in-utero, newborn, aged, or without any hope that they can achieve an ideal state of health and well-being.
When patients visit Dr. Jackie, they immediately recognize how she cares for people. Her goal isn't to put a bandaid over the disease, but to help the person become healthy and well. Other chiropractors focus on the injury, the illness, or the disease. Not Dr. Jackie. She focuses on the whole person and listens to what they need.
Dr. Jackie feels she has been called to serve so she can make an impact and witness the miracles that occur when she treats the full spine and whole person.
Dr. Jackie's dedication to her patients shows in her desire to help without intrusion. She wants her patients to become free with her care. Her interest includes helping her patients learn about themselves, she doesn't want to control them.
Patients appreciate Dr. Jackie's work to correct the root cause that creates the pain. Other chiropractors look for the effect of the disease but leave the cause to continue to harm their patients.
Learn more about Dr. Jackie and her gentle-touch chiropractic care by contacting Innate Chiropractic today.