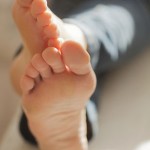 Back in 1952, Dr. Monte Greenwalt made a life-changing realization. As a chiropractor, he saw numerous patients whose?? joint, knee, hip and back problems were all related to their feet. To better serve his patients, he began experimenting with foot orthotics that were inserted into shoes. His patients started getting better results, and Foot Levelers was born.
Three-Arch Support
At Innate Chiropractic Healing Arts Center, we love offering Foot Levelers custom-made orthotics to our patients. Thanks to today's modern technology, we can create your individual orthotics with ease. Our 3D laser scanner measures not just the middle arch of your foot that most people think of, but the other two that are often forgotten: the lateral and transverse arch.
The weight of your entire body rests on the medial, lateral and transverse arches of your feet. If any is compromised, your ankle will pronate inward. Your lower leg bones, in turn, rotate in, which can cause a domino effect of pain. Your hips will rotate in, your pelvis will move out of alignment and eventually, your spine will be affected.
Experience the Results
As your Houston chiropractor for over 25 years, Dr. Jackie wants to make sure that your body's foundation has the support it needs. That's why we are pleased to provide Foot Levelers orthotics to our patients. They're available in a variety of forms to fit not just your favorite pairs of shoes but to suit your particular lifestyle, too. Dr. Jackie has been wearing her orthotics since she was just 18 years old. She only brings products into the practice that she truly believes in, and she's seen them work miracles on her patients!
Find out more about us. Contact Innate Chiropractic Healing Arts Center today to schedule your complimentary consultation!