Back Pain Treatment in Houston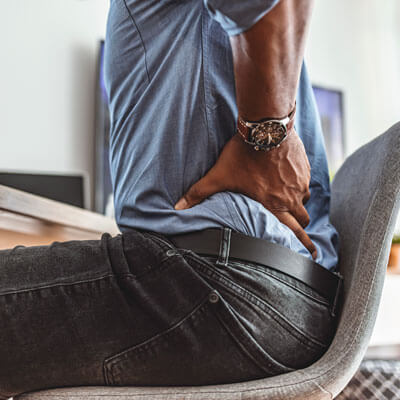 Millions of Americans suffer from chronic back pain that causes limited mobility and debilitating levels of discomfort.
Fortunately, there is a solution. Rather than using medications and surgery to manage discomfort, gentle chiropractic provides relief at the root of the problem.
What Is Chiropractic?
This form of care focuses on the musculoskeletal system and its connection to the spine. Chiropractors find areas of the spine that are out of alignment and causing pain and reduced mobility. Then, the chiropractor at Innate Chiropractic Healing Arts Center brings the spine back to its ideal, healthy position to relieve pain and discomfort.
Treatments help address discomfort in the back, joints, and neck. It can also help reduce headaches, allergies, and reliance on pain medications. Many chiropractors recommend their patients add massages, exercises, custom orthotics and lifestyle changes to improve results.
Chiropractic care works alone, and it can enhance care from a medical professional. Overall, this natural form of care helps to improve total health. When you're ready to improve your health with gentle adjustments and improve your quality of life, schedule a consultation with Dr. Jackie, your Houston, TX chiropractor.
What Are the Causes of Back Pain?
Causes can be from injuries, misalignments, stress, and other conditions that exacerbate the pain and discomfort in people of all ages. The back has a complex structure that permits a range of motion and absorbs stress. The components that form the back include ligaments, bones, muscles, and cushioning discs.
When trauma happens, these components can get out of alignment and cause pain. Traumatic experiences like car accidents, football tackles, and falls on ice are common experiences that can lead to chronic issues.
These injuries may not cause pain immediately but can become painful. Especially if you spend your days working at a desk, slouching, and don't work on your core strength. This condition can also come from health issues like arthritis, obesity, urinary tract infections, and pregnancy.
A chiropractor looks for the cause of the pain and develops a treatment plan to take care of the root of the problem, not just provide temporary relief. Houston chiropractor, Dr. Jackie St.Cyr has been helping people through safe and personalized chiropractic techniques. Her goal is to help her patients achieve optimal health. Contact our practice for a thorough examination, diagnosis, and treatment plan.
Discover NetworkSpinal Analysis (NSA)
When you visit a chiropractor, you can expect the practitioner to take care of your spine and musculoskeletal system. They look for the damage and misalignments that are causing pain in various places around your body. Dr. Jackie uses gentle adjustments and touch to bring relief.
She begins by analyzing your body to find the root of back, neck, and joint pain. She then makes alignment changes through the use of NetworkSpinal Analysis (NSA) which leverages gentle touch, rather than "cracking" your spine.
Network Spinal Analysis also helps people find relief from headaches because of problems related to spinal misalignments and joint issues like TMJ. Part of your chiropractic care plan may also include massage, "homework" (like exercises and stretches), and changes to your diet to further ease your issues. The goal of chiropractic care is to find the body's optimal alignment so you feel good. After returning the body to its ideal alignment, many people return to a pain-free lifestyle.
A Gentle, Non-Invasive Approach
Treatment can be complicated and involve surgery and medications with harmful side effects. When you choose chiropractic care, you can often find relief without having invasive surgery or addictive medications. Dr. Jackie has training that allows her to use gentle adjustments, rather than harsh and jarring back cracking often associated with chiropractic care. Her gentle-touch treatments along with massage and lifestyle changes can make your back feel better quickly.
Studies show how effective chiropractic care is in treating musculoskeletal misalignments. Gentle-touch chiropractic care is an effective option for people who do not want invasive treatments or traditional chiropractic modalities. If you have questions about the use of chiropractic treatment, contact our friendly and knowledgeable team.
Work With Our Team
When you arrive at the practice, our office staff will greet you and give you new patient paperwork to complete. To help with your care, we ask for your medical history and information about your current medications and treatments. We then conduct a thorough evaluation to determine potential causes for your back pain. From there, we treat your spine using gentle, healing touch to bring your back into alignment and alleviate your pain and discomfort.
Book an Appointment
To schedule your chiropractic appointment with Innate Chiropractic Healing Arts Center, call us today.
CONTACT US

Back Pain Treatment in Houston TX | (713) 521-2104