The Relaxation Station at Innate Chiropractic in Houston, TX
The Roller Table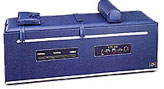 "The Roller Table" (Intersegmental Traction) is gentle and very relaxing. While lying face up on a bench-type table, rollers move up and down your spine applying massage to the spinal muscles and a very small amount of traction between the spinal bone segments. This helps improve the blood supply to the spine, allowing the surrounding spinal joints and discs to get more of the necessary nutrients needed for proper function and healing. This modality may also increase the energy / chi / or life force traveling up and down your spine. Many people benefit from this for stress reduction as well as increasing their spinal range of motion. Each session at Innate Chiropractic Healing Arts Center lasts 15 minutes.
Expected practice member benefits include:
Comfortable and relaxing
Increased spinal range of motion
Improves circulation of spinal fluids
Increases blood flow and oxygen to discs, ligaments and muscles
Improves balance, strength and mobility
Stress reduction
May contribute to restoration of normal spinal curves
Facilitates muscle relaxation
Increased practice member spinal awareness
---
The Original Sun Harmony Chi Machine®

The Original Sun Harmony Chi Machine® oxygenates, tones and strengthens the body through gentle "figure 8″ oscillations. This modality increases feelings of energy and aliveness, stimulates the lymphatic system, exercises and balances the spine and promotes a sense of well being. Each session lasts 15 minutes.
Expected practice member benefits include:
Counteract the effects of daily stress by rapidly inducing a deep state of relaxation
The gentle wave-like movement of the spine relaxes spinal muscles, improving flexibility and movement while relieving pain.
Promote blood cell production, blood circulation and tissue oxygenation
Relax muscles locall
Relieve vertebra joint pressur
Promote a sense of well being
Enhance lymphatic drainag
Improve immune system functio
Massage abdominal organs to aid in digestio
Stimulate the flow of "Chi" energy throughout the body

The Relaxation Station Houston TX | (713) 521-2104