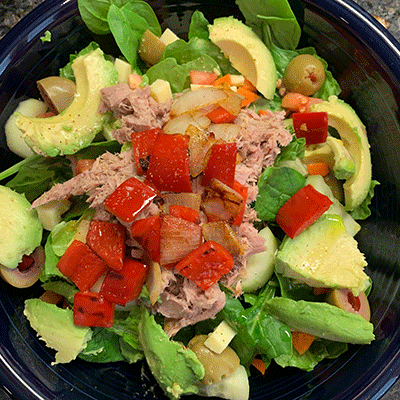 Just like having a healthy immune system, it's all in the preparation! We must prepare every day to be strong in body, mind and spirit! We get adjusted, exercise, take the best supplements and eat a variety of fruits and veggies every day. Mindset is super important also! We work the set of coaching tools that we teach every day and take care of our brain health! And what about spirit?
Meditation, prayer, quiet time, practicing music and art are all super energizing, as well as practicing the 12 Stages of Healing Body-Breath Integration Exercises!
So, this is my favorite, highly requested "yummy salad" recipe. We also go fully organic whenever possible!
Ingredients / 100% Organic (when available):
Romaine lettuce
Baby spinach
Cucumber
Carrots
Diced tomatoes
Diced jalapenos
Pimento stuffed Spanish olives
Cubed sharp cheddar cheese
White onion
Red bell pepper
Avocado; ½ per salad
1 can of tuna fish; per salad
Coconut Oil
Fresh lemon juice; 1 large per salad
Olive oil
Preparation:
1. Start with a bed of your favorite lettuce in a large bowl. I use a mix of romaine and baby spinach.
2. Add sliced cucumbers; ¼ large cucumber per salad. I like them pealed but some people love the peal on so go with whatever you love. I also like them sliced and cut in ½ as you can see in the photo.
3. Add carrots – your favorite way; sliced, diced, julienne or shaved, enough for a good splash of color
4. Add diced tomatoes; about ¼ diced tomato per salad; more if you love
5. Add diced jalapenos
6. Add pimento stuffed Spanish olives; usually 3 large olives cut in ½ is plenty
7. Add cubed sharp cheddar cheese
8. Add sliced avocado; ½ avocado per salad
9. Add another splash of seasoning over everything. My family is Cajun French, so I like Tony Chachere's.
10. NOW add the can of tuna to the top of the salad; drain the water off first. The cats love the juice :-)
11. Pour fresh squeezed lemon juice (2 tbsp.) over the top of the tuna. This gets rid of any fishy taste.
12. Pour a circle of olive oil around the bowl.
13. Add freshly grilled red bell peppers and white onions (grilled in a ½ teaspoon of coconut oil with a splash of Tony Cheshere's Creole Seasoning). Add them straight from the pan while hot.
14. NOTE: One piece of magic in the preparation is that the red bell peppers and white onions are cut in LARGER DICED pieces versus small diced pieces. This is super important for the final touch of flavor!
15. Pour the remaining lemon juice over the entire salad.
16. Mix to your liking and enjoy!
Every bite is a perfect bite with a perfect amount of variety! Enjoy!