Neck Pain Treatment in Houston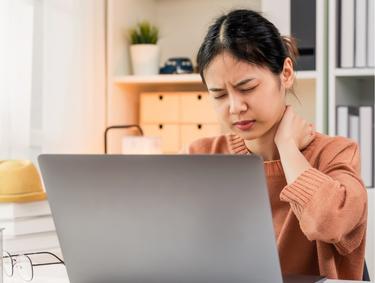 People with neck pain are often reluctant to seek help from chiropractors. They worry about quick movements that cause their joints to crack, and the pain, discomfort, and noise that comes from the cracking can make patients feel anxious. At Innate Chiropractic Healing Arts Center, Houston chiropractor Dr. Jackie treats people with gentle chiropractic techniques that relax rather than stress her practice members. Through the use of gentle touch, we're able to relieve discomfort and bring your neck back into healthy alignment.
Why Do You Have Neck Pain?
When your neck hurts, it's telling you that something is wrong inside your body. Because your neck is a conduit for the messages from your body to your brain, it's important to keep it healthy. Pain from injuries, trauma, and stress can cause your neck to hurt, and when it does, the rest of your body suffers, too.
Common causes include:
Muscle strain: This can be caused by carrying heavy items, sports injuries, or overuse of muscles in general.
Poor posture: Poor posture can put extra strain on the muscles, leading to discomfort. This is especially common if you work at a desk job during the day.
Injuries: Whiplash from car accidents and falls are types of injuries that can cause pain and stiffness.
Medical conditions: These include herniated discs, osteoarthritis, and spinal stenosis, which can cause neck pain.
Stress: This can cause tension leading to tight muscles.
Other factors: Smoking, obesity, and lack of exercise can contribute to neck pain.
Finding the Cause
Chiropractors understand that pain can radiate from unexpected locations. The source could come from another part of the body. Fortunately, chiropractors know how to find the source so they can alleviate the discomfort. Often, the source originates in the spine, when nerves, muscles, and other areas are misaligned.
Without treatment, this condition can worsen. Despite being a small body part, the neck includes several important components. When the neck hurts, it's often due to a reaction that causes the body to spasm and tighten. These problems result in bad posture and behaviors that reinforce it, causing more misalignments and more discomfort.
When your neck hurts, it's tough to do daily tasks. It's difficult to turn your head, sleep comfortably, and stay fully alert while driving. The problem can come from carrying a heavy purse, hunching over a computer, or another form of trauma. Fortunately, most pain can be treated with gentle touch treatments from Dr. Jackie.
Focused Chiropractic Care
When you schedule an appointment at our practice, you can trust that our team will focus on your discomfort and other related issues in your body. Dr. Jackie prides herself on taking care of the full person, not just symptoms. She will take time to listen to you and evaluate your pain to get you to your optimal alignment from top to bottom.
Dr. Jackie will look for misalignments or other problems in your neck. With natural and gentle treatment, you'll begin your path toward a healthy neck and spine so you can live without pain.
After living with discomfort for so long, you'll be pleasantly surprised at how good your body can feel. Living a pain-free life is liberating, and you'll be able to focus on all peace and goodness without the distraction of limited mobility and suffering.
Why Get a Gentle Chiropractic Technique?
If the sharp cracking techniques make you anxious, gentle chiropractic methods might be good choices for treatments. These gentle methods help patients feel relaxed, making light-force chiropractic adjustments more successful in the long run.
Getting rid of neck pain will change your life. You'll sleep better, so you'll be more rested throughout the day.
Book an Appointment
When you're in the market for a gentle chiropractor in Houston, look no further than Dr. Jackie and the team at Innate Chiropractic Healing Arts Center. Contact us today to schedule an appointment.
CONTACT US »

Neck Pain Treatment in Houston TX | (713) 521-2104